Dean's Message
Welcome to Kwansei Gakuin University School of Economics!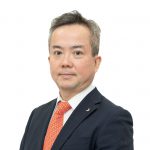 Nobuo KOBAYASHI
As dean of the School of Economics at Kwansei Gakuin University (KGU), I would like to welcome you to our school's website. The School of Economics, the intellectual home of approximately 60 faculty members and the largest school within Kwansei Gakuin University with about 3,000 undergraduate majors, was first established in 1934. The School has one of the longest histories and traditions as a faculty in Japan. Today, our school is nationally recognized for its research and teaching.
The educational aims of the school are to foster individuals who can continue to better themselves by learning specialized knowledge in economics, observing various cultural factors that influence the economy, and developing and mastering communication skills. For this purpose, our undergraduate program trains students to think objectively and independently about a wide range of economic topics. With a broad curriculum systematically constructed for deep learning, the program prepares students for professional careers in industry, finance, government, and other fields. The MA program offers a rigorous curriculum with theoretical and quantitative training that prepares students for careers in the public and private sector. The Ph.D. program equips students for academic careers with an educational emphasis in economic theory, statistical methods, policy analysis, and historical approach.
The School of Economics also values and places an emphasis on research. The faculty members actively conduct research and report their findings in hopes to benefit society. Our faculty members, who are highly qualified experts in their fields, consistently appear in books and leading journals every year. The most recent publications are listed on faculty members' personal webpages. Many professors are granted scientific research funds by JSPS and other organizations. These qualities prove that our distinguished faculty members are among the highest in research ability.
In order to circulate research done by our faculty members, the School of Economics issues many discussion papers and the Journal of Economics of Kwansei Gakuin University quarterly. Seminars and workshops are held periodically and the faculty members have a constant flow of stimulating visiting researchers from within Japan and overseas.
Contributing to the development of the society is a key factor faced by today's higher education institutions, our professors participate in many industry/university cooperative projects. Furthermore, our professors are members of international academic associations and actively participate in international academic exchanges and cooperate with institutions outside of Japan.
The School of Economics at KGU will continue to pursue excellence in research and education and be a competitive institution in Japan for years to come.
Nobuo KOBAYASHI
Dean and Professor